Let's take a look at the following best Photoshop Tutorials selected that appeared on January.  From now on I will share to you the best tutorials around the web in every month.
Don't forget to subscribe to stay updated to our design news! Also take a minute to share this post with others using Social Bookmarks.
I saw this beautiful stock image with the girl and decided immediately that she is perfect for an angel so this is how my image came to life. It is an easy to create photo manipulation and you can play with settings, colors, shadow and light! I hope you enjoy reading this tut! Let's start!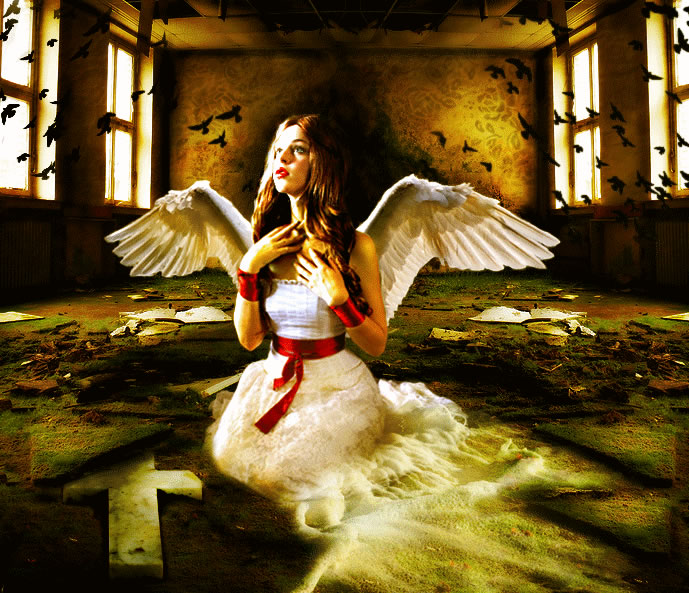 Have you ever wanted to know what a Giraffe looks like without its spots? If so, this tutorial is for you, you pervert! Today, we will demonstrate how to undress a giraffe by removing its spots. We will then show how to turn its spots into an outfit that will be draped over an ironing board. Pretty cool! Let's get started!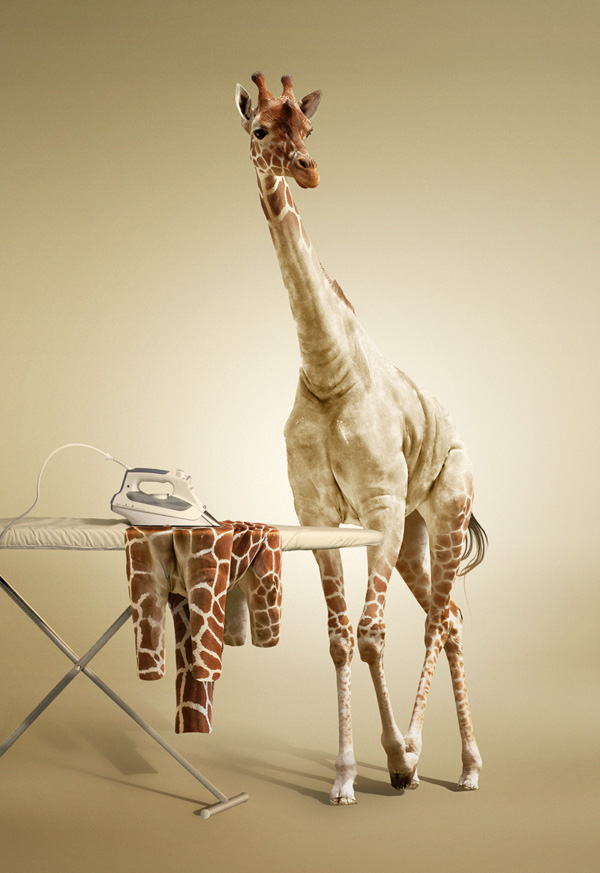 In this tutorial, I will show the steps I took to create this Create Awesome Abstract Nebula Circle Shape in Photoshop. This is an intermediate level tutorial so some steps can be a little tricky for beginners, but why not have a try!
In this surreal Photoshop tutorial, you'll learn the entire workflow from start to finish of creating an incredible surreal abstract artwork.  Starting with just a single photograph, you'll learn how to apply adjustments to bring it into an easily workable color scheme, as well as then using the pen tool to create amazing surreal shapes.  Then, you'll learn how to finish it off with a few other effects and another stock photo, for an incredible surreal artwork.
Today we will create a conceptual monotone composition based on the idea of breaking our own boundaries. We will use stock photos, a bit of imagination and of course, Photoshop. The tutorial is well explained, with high quality step pictures.
In this tutorial, I will show you the steps I took to create this Rough Woody Text Effect Made of Wood Splinters in Photoshop. We will also use some ground textures and dirt brushes to achieve some special effect. Have a try!
I have decided to create a new character from Alice in Wonderland and I hope that maybe someday to recreate all the important characters in Photoshop.
After the Red Queen of Hearts and Alice now it is time for the Mad Hatter! I hope you find this tutorial interesting enough to create your own mad hatter! If you do please leave me a comment with the link!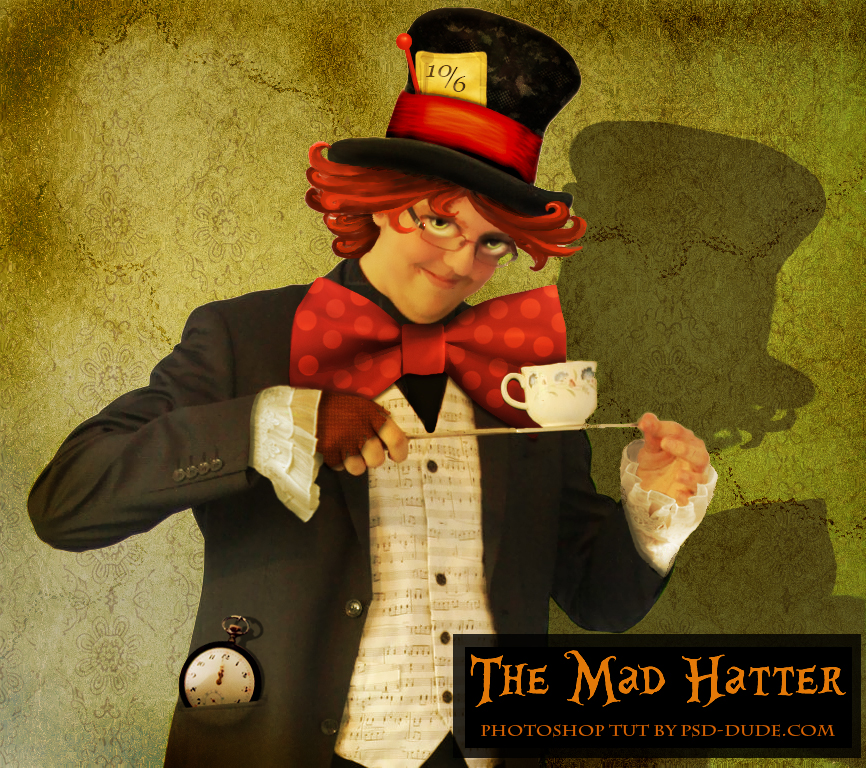 The making of the Lost Temple is a photoshop tutorial focusing on merging many reference images with matte painting techniques.
In this tutorial I am going to show you how to create a nature inspired design that is both organic and visually arresting. We will be covering some useful tips as we work through the process of creating a striking image that will show a helpless being pulled into the powerful grasp of nature.
Today I will be showing you how to take an image of a model and turn it into a futuristic composition that uses various Photoshop techniques. We will be doing some work with masks and implementing color and light effects to achieve the end result. If you are ready then start up Photoshop and let's get started.
In this tutorial, I will show the methods I use to create a Dramatic Meteor and Burning City Effect in Photoshop. This is an intermediate level tutorial so some steps can be a little tricky for beginners, but why not have a try!
One of the most important aspects of business networking lies within your business card! With as many businesses that are out there today, it's important to stand out amongst the crowd! Plain white or multi-colored cards are a thing of the past and the new dark business card designs are sure to set you apart from the competition!
In this tutorial, I am going to design up a print ready dark themed business card. Let we get in to the tutorial.
In this detailed tutorial I'll be walking you through the process of creating a cool sleek business card from scratch using Adobe Photoshop CS5. The business card when finished will be print ready, ready to send to the printer.
Hello and welcome to another tutorial here on trendyTUTS.com. For today I will show you how to create a nice elegant and colorful business website layout in Photoshop.
It's a new year, and with that, Photoshopgirl.com is back with a new tutorial and a new resolution! Not the New Year's kind, but the larger tutorial size kind. Monitors keep getting bigger and my web stats says it's time to bump up the resolution for the vast majority of readers, so the new tuts will be somewhere in the neighborhood of 1200×750, up from 960×600. Hopefully that doesn't impede on too many of you still using 1024×768, but hey, a higher resolution is just a setting away!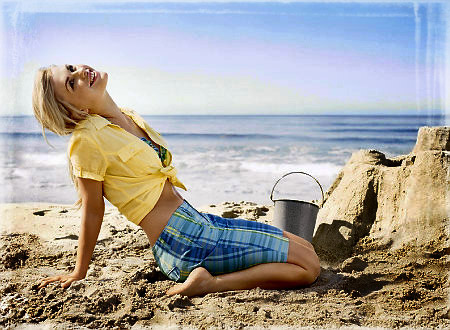 In this tutorial I am going to show you all methods to create a glowing timepiece decorated with precious stones and golden insects.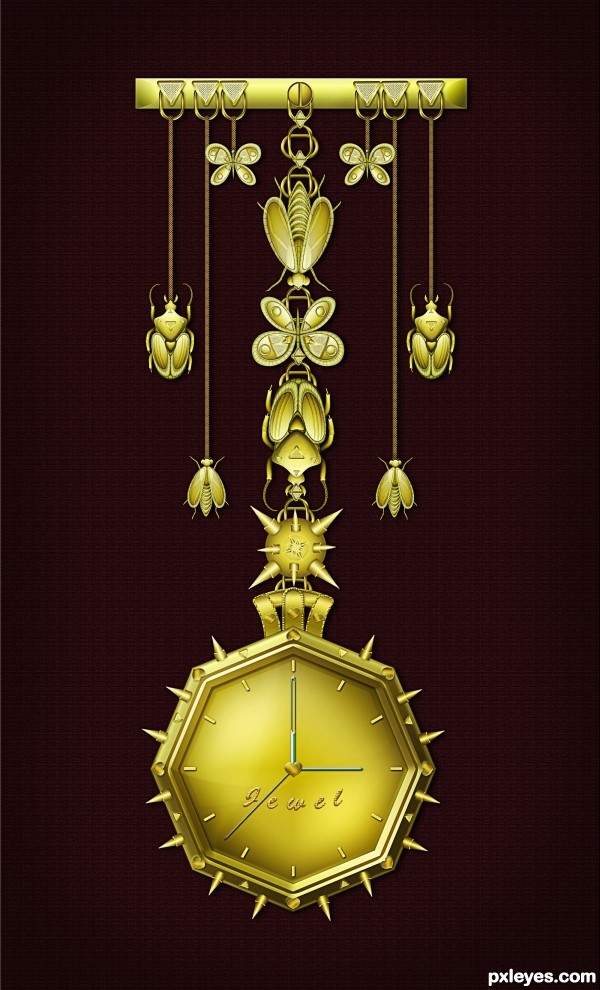 The beauty of Photoshop is that you can do nearly anything with it, even turn yourself into a Na'vi alien from Avatar. In this tutorial we will demonstrate how to use basic digital painting techniques to turn an ordinary photo into an Avatar style portrait. Let's get started!
Patterns are a really fun aspect of design and can be used across homewares, product design, apparel and more. Designer and illustrator Steven Bonner knows a thing or two about repeating patterns, and recently created some graphics for the official Scottish event hotel at this year's Commonwealth Games. These designs were used to dress the hotel, appearing on everything from cushion covers and curtains, to press conference walls.
Mart Biemans's artwork Feel It combines a neon-infused colour scheme with dynamic triangles and other shapes to achieve its eye-catching quality.
In this tutorial I will walk you through the steps needed to create the cosmic lady opposite, complete with overlay effects, colour treatments and elements that you can easily create in Photoshop. The project is based around a photograph from ThinkStock.com, which they've kindly provided on the Download Zone.
I am really waiting to see the new movie Alice in Wonderland . As I remember I was not a fan of this book when I was little but I a sure I will like it now. So in meantime I have decided to create my own photo manipulation inspired by one of the official movie posters . The character choosed is the Red Heart Queen. I hope you will enjoy reading this tutorial!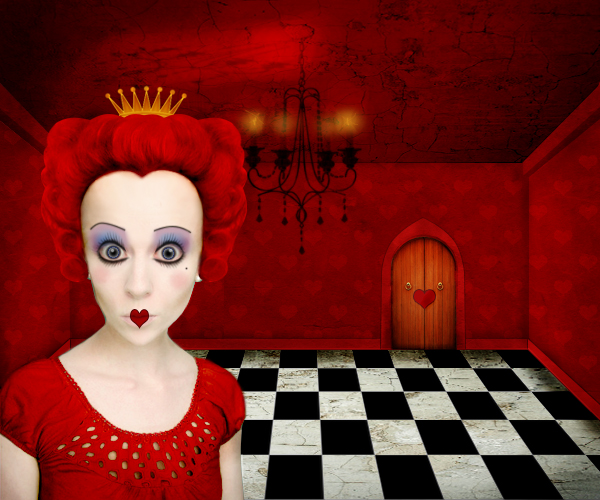 Hello Photoshop Plus fans, in the second tutorial this year I'll be walking you through the process of creating a industrial style folder icon. Lets get going…
Combine stock photography, custom shapes, brushes and filter effects to create a cool and stylish black and white abstract photo manipulation in Adobe Photoshop with this tutorial.
This is an in-depth tutorial for beginners: Detailing how to draw a character using grids in Photoshop, sampling colours and blocking them in, shading the skin tones, detailing the eyes, creating a brush to paint textured effects for clothes and material, using David Nagel Series 37 skin brushes, and then finally creating the sky background.
I have tried to aim this Photoshop video tutorial at beginners of Photoshop, showing which buttons you need to press to create the desired effects. If you have any comments or suggestions regarding the video tutorial then do post here.
A great technique for creating motion, mood and action in an artwork is to give the sense of a story coming to life.  Although used frequently in film and books, this technique also can be applied to digital art, by using an object such as a book, painting, photograph or drawing as the focal point, and then having the composition seem to spring to life from it.
In this fantasy photomanipulation tutorial, you'll learn how to start with just a few stock images and quickly build up an incredible story-based artwork.  You'll see how to manipulate images, add effects and build an amazing artwork in this Photoshop photomanipulation tutorial.
Hello. In this tutorial i will show you how to create an elegant WordPress PSD theme. You can use this web template also for consulting agency templates, services websites, marketing website templates, business website templates, finance website templates. The design is very clean and can be modified very easy into a great template.
In this tutorial you will learn how to create a classy video player in Photoshop. Our video player looks quite simple but very clean and professional. For creating this we will use breath-taking winter landscape, some beautiful minimalistic icons and various blending options to achieve pixel perfect and attractive media player interface.
This tutorial outlines the steps to creating the coveted 300 movie effect in Adobe Photoshop.  With help of channels, layer blend modes, and a couple adjustment layers, you can recreate this effect on your photos.
For this tutorial I will be showing you how to combine various photos all inspired by nature into a collective and unified illustration. The design will use coloring and lighting effects along with advanced masking techniques. If you are ready to go then fire up Photoshop and let's get rocking!
I have never tried creating a piece of fractal artwork. This is my first attempt and I am sharing my steps with everyone. I hope my steps are easy enough to give a headstart to those who needs to do up a similar effect for their projects.
Learn how to create  a mouth watering Packet of Potato Chips in Photoshop!
In this tutorial I'll be walking you through the process of creating a Safe Illustration. We'll be using a number of tools in this tutorial so there's plenty to be learned. Lets get going…
In this tutorial, Sakke Soini guides you step-by-step through the process of creating this cool old school sci-fi poster image, based on Stanley Kubrick's 2001: A Space Odyssey. The tutorial includes tips on all the ageing effects you'll need to make your poster art look as though it's been in a garage for the last 30 years, not created on a computer last week.
The tutorial covers colouring and texturing layers, colour ful glow effects using the Render Clouds feature, and how to create stars using the Noise filter. When making a poster with a retro feel, try not to do too much research beforehand: instead, brainstorm childhood memories of similar posters and graphics.
Get down and dirty with inky, customized Photoshop brushes and brilliant photomontage techniques.
If you're not using custom Photoshop brushes already, then you're missing out on one of Photoshop's most useful features: used well, they will bring flair and individuality to your designs – as well as saving you a lot of time.
Adding people to architectural renders in Photoshop can be a tricky process and can make or break an image. If you leave the render unpopulated then the building will look lifeless and deserted, if you put people in but don't adjust them to suit the image then they will steal the focus away from your building.
First of all I just want to thank CGArena for recognizes us as an artist and giving us a chance/place to post work and creating an excellent resource for us to use. I hope you enjoy this walkthrough for one of Marvel's most known characters, the incredible Hulk. My name is Corey Loving; let's begin.
We have another great tutorial available for our readers today. If you want to learn how to create Colorful Valentine's Day card with shining heart, using simple shapes and gradients in Adobe Photoshop CS5, then this tutorial is for you.
Continuing our series of text effect Photoshop tutorials, this week, we'll be looking at how to use shapes (similar in style to those from our recent surreal tutorials) to create an ornamental text effect in Photoshop.   You'll see how to wield the pen tool to create shapes, and how to paint as well as burn the shapes to create a 3D illusion.
Next, you'll see how to use these shapes to form letters and create a fun colorful text effect.
A long time ago I created a wallpaper called Fantasy Out the Door, I thought it could be nice for me to share the process to create it. You'll learn how to use some stock images, photoshop brushes and blend them all together to create a nice wallpaper
In this tutorial i will show you how to create a layout with a moleskine layout. This layout can be used for your portfolio, because it has the look of an open agenda.
In this tutorial, we will be creating a very cool and groovy retro design. Using blending options as our main focus, the mixture of different options will shine through and the creativity and uniqueness will be evident in this retro design. In this tutorial, we require two extra resources which you can download below.
We couldn't start the new year without a Photoshop tutorial on how to realize a high-style 2011 wallpaper! Let's create together a futuristic type treatment in 16 easy-to-follow steps. We will deal in particular with layer masks and light effects. Also I will show you the power of layer styles and how they can be used to realize awesome text effects.
Learn how to create a sleek & professional Office Desk style layout in Photoshop.
One of the easiest ways to make your designs pop is to add some texture and depth to the background. As with many things in Photoshop, there are multiple ways to do this, but by combining a few simple techniques and exercising some creativity, you can create a background for almost any situation.
We are going to combine vectors and textures on top of a flat color and use filters and layer blending modes to create a background with some depth.
In this tutorial, we will use a combination of layer styles, textures, and a bit of manual drawing to create a Winamp-style mp3 player skin.
Given the right tools, Photoshop can make just about any task easy. Today's tutorial will demonstrate how to create a still life telephone scene from scratch using the smudge tool. Let's get started!
Hello everybody hope you all had a good Christmas and new year. In this tutorial I'll be walking you through the process of creating a sleek portfolio layout.
Follow this step by step guide to creating a detailed gauge icon in Photoshop. We'll be using various Photoshop layer styles to build up gradients and shadows to produce a detailed and realistic large scale icon, then modify and rebuild the icon into a range of typical icon sizes.
Learn how to create a fancy Medieval Sword & Shield in Photoshop from scratch!
Learn how to create a Business Man Mascot in Photoshop!