You want to start a new blog or you just want to redesign, to upgrade, to bring your blog to a new level, more professional and unique. Today if you search on Google you will find tonnes of free wordpress themes but these themes don`t make you happy just because they are free, very low quality and are used by most of users. So, what do you have to do ? Well, you have an alternative to buy from companies like WooThemes, ElegantThemes, ThemeForest etc. These themes have the advantage that (not all of them) are high quality, already coded, widgetized at a very low price. But they have a disadvantage, these thems can be bought by any user wants and pay for it.
So, you have a latest alternative to upgrade or start a new unique blog. This alternative it`s to hire a designer to make you dream wordpress theme design and then a coder to bring your theme alive. These things will cost you a lot. So, if you want to save some money and have your wordpress dream theme too, you should design it by yourself and code it by yourself using some of the following tutorials:
---
1.Structuring, Designing in Photoshop.2.Slicing and Coding.
6.about.php – a custom file for the about section in the sidebar.
9.featured-post.php – a custom file for the featured posts.
---
Just design tutorial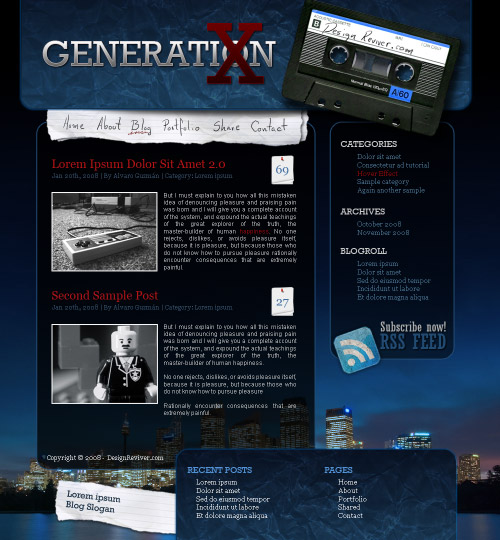 ---
Just design tutorial
---
Just design tutorial
---
Just design tutorial
---
---
Just design tutorial
---
Just design tutorial
---
Just design tutorial
---
---
#1 Intro
#2 Template Files and Templates
#3 Starting Index.php
#4 Header Template
#4b Header Template Continues
#5 The Loop
#5b The Content
#5c Postmetadata
#5d Else, Post ID, Link Title
#5e Posts Nav Link
#6 Sidebar (and Categories)
#6b Page-Link Listing (wp_list_pages)
#6c Get Archives and Links
#6d Search Form and Calendar
#6e Widgetizing Sidebar
#7 Footer
#8 How to Validate
#9 Style.css and CSS Intro
#10 hex Codes and Styling Links
#11 Widths and Floats
#12 Post Formatting and Miscellaneous
#13 Styling Sidebar
#14 Footer and Dividing Index
#15 Sub-template Files
#16 Comments Template
---
Design+Code
---
Join test king o get professional web designing training and learn how to create inspiring WP themes for your personal blog using testking 642-524 design tutorials and testking 642-873 demos.
Are you worried about mcdba and 70-443 exam preparation? We offer up-to-date 70-177 and 70-450 with 100% exam pass guarantee of 70-622.