Anyone knows what adobe illustrator is good for! If you use Illustrator be sure that you learn how to create interesting 3D objects and how to apply very nice and realistic effects, because the 3D effect is one of the best things in Illustrator. Also you can do the 3D shapes in Illustrator and then just transfer to Photoshop to apply very realistic and cool effects that Photoshop rules at.
So here you have a collection of adobe illustrator 3D tutorials:
In this step-by-step tutorial, you will learn how to make a photo realistic orange using Adobe Illustrator CS3.
The Power of the Appearance Palette
In this tutorial we will take a look at some of the functionality that makes the Appearance Palette so useful, and describe ways to save your effects for quick use in other projects.
Adobe Illustrator is very powerful tool in the right hands, especially in creating nice 3D effects in the very fast time, later You can easily define those effects as photoshop brushes for later use. Enjoy this tutorial and follow with me to those steps – I will show and give You different ideas how You can use the same technique and get out amazing effects.
To do this tutorial, Adobe Illustrator CS or above is a must, because we need to use the 3D function and if I'm not mistaken only Illustrator version from CS and above support it. Before preceed, please take a look at the preview below on what we are going to do and learn. Besides 3D, we will touch on creating graphic symbols as well as the 3D Map Art function.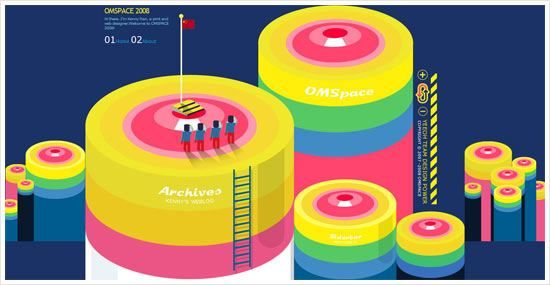 In this tutorial I will show you how to create a 3D hammer using Illustrator.
Adobe Illustrator has some nifty built in features when it comes to working in three dimensions. This example gives a quick walkthrough on using such features to create a 3D rotatable globe, allowing the earth to be revolved in order to show the desired countries and continents.
I did a quick search to find an illustrator tutorial on creating a disco ball but I couldn't find one. So I've decided to write this tutorial to help those interested in creating this awesome disco ball effect. It is actually quite simple, the technique is to create the texture first and map it onto the 3D sphere. However, we will require Illustrator CS and above to create this effect.
Do you have a green thumb? With this tutorial, you may end up with one! Learn how to create a 3D flower pot with this tutorial, including soil and flower!
In this tutorial I'll show you the process I use for creating a 3D floorplan from scratch, in 6 easy steps. This technique can be applied to infographics, such as escape-plans or to show the layout of a building that you normally wouldn't be able to see. Let's get started!
Are you feeling lucky? See if you can roll a lucky 7 with this tutorial on how to create 3d dice!
A 3D neon blue digital lcd clock created in Illustrator with a final step in Photoshop.
This tutorial covers the Illustrator portion. Some skills to learn here are how to create perspective, blending, and adding gloss.
Practice makes perfect as they say. With this tutorial you'll get some practice using the Revolve effect and learn how to make a soccer practice cone!
In this tutorial we'll use illustrators 3D tool to create text with depth. We'll give the letters personality by placing them at angles and choosing a fun font. We'll add a crazy rabbit character and unify all the colors as we add simple shading. Lastly, we'll give this fun logo a sticker effect. We cover quite a bit of ground in this tutorial, so fire up Illustrator and let's begin!
There are many ways to create a marker in Adobe Illustrator, but this might be one of the quickest. It only takes three paths, some text for the imprint and a 3D effect to create a semi-realistic and freely rotatable marker. So let's get started!
This tutorial will teach you how to make 3D glasses on a carpet using Adobe Illustrator.
In this tutorial you will learn how to create a 6-egg box (full of eggs). We will use 3D Rotate and Revolve Effects. We will also play a lot with masks. You may download the source file (created in Illustrator CS4, back-saved to CS2+).
Cash-in when you follow this tutorial for creating accurate and logical reflections. I'll cover how to use shading and masking to create an illustration that's worth the look.
In this tutorial, you will learn how to create a 3D sandwich using easy to understand steps and techniques. We will use the 3D Extrude & Revolve Tool with some simple shapes to make a tasty looking BLT sandwich.
Here is a beautiful and amazing text effect. I made it in Adobe Illustrator. A lot of commands for you to learn while making this. Hopefully you will like it.
In this tutorial you will learn to make a 3D logo that you can use for book cover in Illustrator.
In this tutorial we'll go through the steps of designing and making an animated paper robot character. Not just a picture, this is a moving character that will sit nicely on top of your computer monitor. Push the robot body up and down and he stretches out his robot claws! We'll start with the lines ready and learn the craft of coloring and then physically putting this paper character together.
In this tutorial, you'll learn how to create a baseball bat and a baseball using Illustrator's 3D tool and blends. We'll utilize 3D art mapping for texture creation and pathfinder tools to create this classic illustration of a bat and ball.
In this tutorial you will learn how to make a realistic vector bucket icon. You will learn to use the 3D Revolve function, how to add realistic light effects and how to draw different objects to form a composition.
Create a stylized First Aid icon from a simple rectangle, is it possible? Ryan Quintal and Vectortuts+ brings you this screencast of the popular written tutorial.
In this tutorial we'll learn to create three types of optical illusions. Learn how easy it is to fool our brains. You'll not believe there is no curved lines on the chessboard.
As my first experiment with typography, I wanted to create a 3D Text illustration and mess with the perspective of the piece. I've noticed many people using 3D programs for them such as 3D Studio Max and Cinema 4D, but with the lack of those programs, I had to settle to using Photoshop and Illustrator to do it. Here's a tutorial on how I created my simple 3D typography illustration called "It's All Greek To Me".
In this tutorial you will learn how to prepare an eco colored egg for easter. Eco for there are no artificial colorants used. I wanted to recreate the look of a traditional polish egg: cooked in onion rinds with wax decors to be scratched off afterwards. In the first part of this tutorial I explain how to create a decor, in the second onehow to create a 3D naturaly looking egg.
Excellent door hangers online printing  available at PsPrint
We provide fast success in microsoft certification by using our high quality 70-445.We also offer up-to-dated 70-181 exams and 70-452 with definite guarantee of success in 70-632.