Here I come with a fresh new collection of Illustrator tutorials. It's important to learn as many tricks and tips in Illustrator and Photoshop as possible because combining these 2 programs you will get some really nice results!
Don't forget to subscribe to our news to stay updated to our design news!
You might also like:
In this tutorial I show you how to create a striking Text Effect using the 'Blend Tool'.
Let's celebrate Season 5 of Dexter by Designing a Dexter Vector Illustration!
In this tutorial you will learn how to make those awesome, shiny little web 2.0 badges that say " Money back Guarantee", "Satisfaction Guarantee" and etc. Good thing about these badges is that if you use them on a website, you'll make the website look much more trusted and professional.
Hi there. In this week's tutorial I'll show you how to create a glossy, smooth text effect using multiple fills and strokes with different blending modes and varied opacity percentage. For some discrete details, the Star Tool, the Pathfinder options and some other basic effects will come in handy.
In this tutorial you will learn how to illustrate your own eBook Reader, using Rectangle, Pen and Offset Path. If you have Adobe Illustrator CS5, you can also learn the new features, the Perspective Grid Tool and Perspective Selection Tool.
I thought I'd share this wee trick with you.
It's really simple, and maybe every other illustrator out there uses this effect, but I only learned how to do it a couple of months ago.
I've always wondered how vector illustrators manage to create a lovely soft glowing blush effect without using a gradient mesh. Well, it's really easy, and it's created using a radial gradient.
In this tutorial I will showcase three different approaches, which result in three different beveled lettering styles. Starting with my least favorite, and least complex, working my way to a style of beveled lettering that accomplishes an extremely polished and professional look.
In this tutorial I'm going to show you how to create a feather art brush. You'll then learn how to use it to create a set of angel wings, which can be added to your illustrations.
In this tutorial I will show how to create a sailing ship illustration with a story book style, using the Gradient Mesh to make the cloth of the boat's sails. I will also use the Gradient Mesh to colorize the wooden parts of the boat. Then, the Scribble filter and the Brushes application will be used to create the sea. Finally, I will show you how to use a mask to create a fog effect around the illustration.
In this tutorial I will walk you through creating your own calligram inspired by a dog named Poppy. You'll learn how to manipulate a typeface through to rendering fur, adding doggy features, and various details.
This tutorial shows the potential the Appearance Palette in Adobe Illustrator. We'll be building an elaborate neon sign, utilizing the Appearance Palette to speed up the process and remove the need of drawing complex paths.
This tutorial on the Recolor Artwork dialogue box will drastically increase your ability to experiment with color and to try a variety of new color schemes quickly. In this tutorial we will cover the basics of Swatches and Color Guide and how they can be used in conjunction with the Recolor Artwork feature.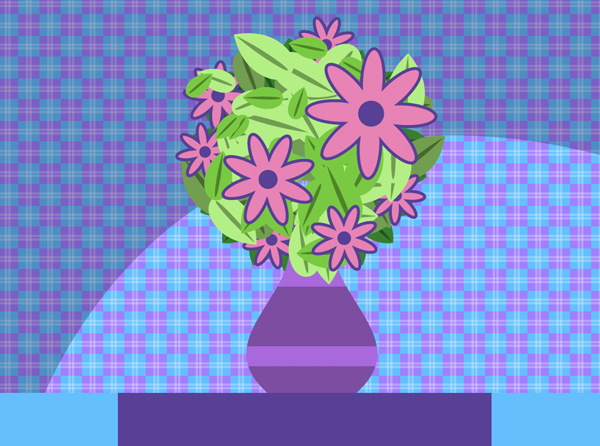 Learn how to create a Vector Shopping Girl Character Logo in Illustrator & Photoshop!

Thinking of drawing some Christmas bells for this Christmas? Read this illustrator tutorial to learn how to draw 5 different styles of vector Christmas bells using the 3D Revolve Effect. You will also learn how to create unique designs for each one and how to apply them using the Map Art option. This tutorial is creative and hope you will learn new techniques. Let's get to work!
In this tutorial you will learn how to create a vector stop watch icon in Adobe Illustrator. The tutorial is covering all the steps needed to create a great looking, realistic stop watch. Only the basic tools in Illustrator such as Ellipse, Rectangle, Gradient and transformations are used to achieve the result you see here.
In this tutorial you will learn how to make an Audio Cassette Icon. We'll be using only lines, rectangles and ellipses! We will also work with mutiple fills and in built vector textures! along with some valuable tips and tricks!
Halloween is in a couple days and why not celebrate by creating a mummy styled text treatment? In this tutorial you will learn how to create this treatment with some gradients and, of course, heavy use of the Appearance panel. There isn't a lot of steps but the tutorial is slightly more advanced than previous tutorials.
Hi there. In this week's tutorial I will walk you through creating your own shield icon. You'll be using the Rectangle Tool, the Ellipse Tool, the Direct Selection Tool and the Convert Anchor Point Tool along with some Pathfinder, Offset Path and other simple effects. I will also show you how to work with scripts.
Follow this step by step design tutorial to create a simple vector mechanic character in Illustrator. We'll build the basic shape of the character using simple shapes, then slowly build up the details with a range of linework. To finish off the character we'll fill the design with colour then add a few touches of shading and highlighting.
This time, my colleague come up with Twitter Hand Drawn icon, an Adobe Illustrator tutorial. I hope we'll update KG with lot of new articles.
Read this illustrator tutorial to learn how to draw a professional drums kit from scratch. By the end, you will know how to make a tripod stand, drums, different types of cymbals and also how to create the texture for the drums. Hope you will find this easy to follow and useful. Enjoy.
Hi there. Here's my new tutorial on how to create the Opel logo. In the following steps we'll be using some classic tools, such as the Rectangle Tool, the Ellipse Tool or the Direct Selection Tool, along with some quite simple effects, such as the Drop Shadow, Offset Path, Reflect&Move and Zig Zag.
Hi there. In the following tutorial I will show you how to create a clean envelope icon. Give it a try and you might learn some new stuff about working with grid and the transform effect. You will also need some linear gradients, strokes, Opacity Mask, Pathfinder options plus some simple effects and techniques.
A good designer knows that a good mastery in designing cool text effects is really important in many situations. There are a lot of design works that need a good text effect to be really professional, so in the following tutorial I'll show you how to create a glassy text effect in Illustrator. We'll learn some simple techniques to enhance our types giving them gloss and shine.
I'm going to make Water Drops in Illustrator. It will give dew drops over Glass of window look. Some new commands, tools and new techniques for you in this tutorial.
Here is a nice technique to make 3D Disco Ball or Lights in Adobe Illustrator. Some new commands and technique for you to work out. So enjoy!!!
This is very long tutorial, by using this tutorial you can make any Character in Illustrator. You can make changes accordingly.
Now its time to have some Vector Based Tutorials. I've uploaded some Vector Based tutorial in Coreldraw section, but this time I'm going to make some Tutorials in Adobe Illustrator. Hopefully you will like to learn these. In this tutorial I'm going to make Glossy Eyes, so there will be a lot of things to learn for Beginners or Experts.
Here is another Vector Based Tutorial. In this tutorial we are going to make a Scene, in which Morning View will be displayed. The purpose is to tell you different commands and use of different Tools. Not very lengthy tutorial but interesting one too.
In this tutorial, I'll show you how to make a stylish retro television in Adobe Illustrator. You will learn how to draw basic shapes, modify them and apply gradient and gradient mesh for more realism. Hope you enjoy this illustrator tutorial.